How is technology enabling financial transformation in organizations?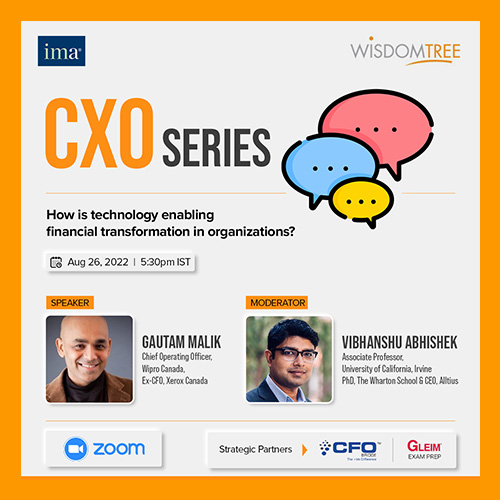 On the 26th of August, 2022, Wisdom Tree launched its first edition of exclusive invite-only fireside chats called the CXO series. The aim of this event series is to have discussions on contemporary topics impacting finance and accounting globally. We had Mr. Gautam Malik, Chief Operating Officer (COO), Wipro Canada and Mr. Vibhanshu Abhishek, Associate Professor of Information Systems, University of California, Irvine on the panel, who discussed how technology is enabling financial transformation in organizations around the world. We had Gautam talk about his experience as a Chief Financial Officer (CFO) at Xerox where he spent the past seven years as the CFO. He also gave specific case studies on financial and business transformation & its evolution over the years. He also spoke about how his transition has been from CFO to COO and the need to reskill staff, especially post-covid. We would like to thank him for advising all the students in the audience, who aspire to be finance professionals in the future. Vibhanshu was a fantastic moderator throughout and steered the whole discussion towards the focus areas.
The event had over 100+ participants from countries all around the world, who were brilliant throughout the session and asked some extremely insightful questions to the panel.
Our strategic partners for the event were: