Changes in Business Education Post-Pandemic - A Corporate Perspective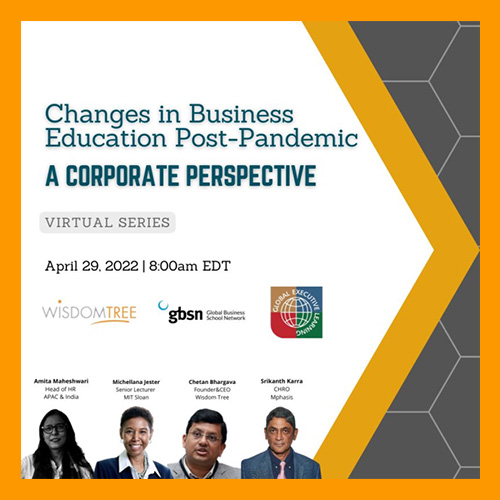 Wisdom tree hosted it's third "Meaningful Conversations" event on the 29th of April 2022 in partnership with GBSN - Global Business School Network. The event hosted distinguished professors from top universities, educational technology founders and thought leaders.
Our Panelist, Mrs. Amita Maheshwari, Head HR - APAC & India, The Walt Disney Group, spoke about agnostic hiring and the need for business schools to constantly revamp the syllabus to suit the dynamic market needs, with emphasis on areas like blockchain, artificial intelligence and data analytics. She also highlighted the need for skills like relationship building, persuasion, negotiation, innovation - all these coupled with integrity and decisiveness, in students for them to go a long way.
Mr. Srikanth Karra, CHRO (Chief Human Resources officer) of Mphasis, our second panelist of the day mentioned how business schools need a special focus on technology-human interface as speed, agility of services, processes and methodologies are changing fast.
Hence, connecting the dots between technology/human/financials are key competencies to focus in the MBA curriculum. He further addressed the changing employee value proposition in corporations and the importance of internships interspersed within semesters as opposed to internships, post - graduating, in maturing a student.
Our third panelist for the event, our mentor and board of director, Ms. Michellana Jester, Faculty, MIT Sloan School of Management, mentioned how schools are leaning more into technology-enabled engagements/interactions allowing them to expand their reach into micro-learning and micro-credentials. She also accentuated about seeing a pattern with many young people skipping the idea of going to school to work for a certain name or brand and how human skills, values, the mission, and vision of the company are important factors for choosing a role. The event witnessed a participation of over 75+ attendees from India, USA, UK, Russia, Germany and Singapore.
Mr. Dan LeClair, CEO of Global Business School Network and Wisdom Tree's close ally, was a wonderful and articulate moderator for the event.
Strategic partner: Global Business School Network (GBSN)