Learning Innovation - The expansion of the education eco-system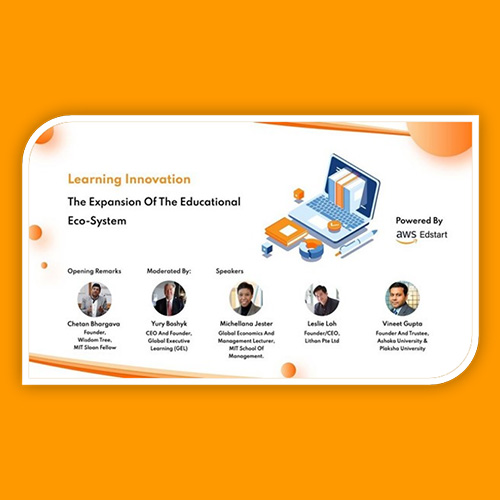 For "Meaningful Conversations" debut, in 2021, as a platform to conduct discussions around what is happening across the globe in terms of innovation and sharing best practices with global leaders, we had thought leaders talk about "Learning Innovation - The expansion of the education eco-system ".
Our honorary panel consisted of Mr. Leslie Loh, Founder, eduCLaaS, Ms. Michellana Jester, Faculty, MIT Sloan School of Management and Mr. Vineet Gupta, Founder and Trustee, Ashoka University. We also had our mentor Dr. Yury Boshyk, moderate the entire session with absolute ease.
Some of the session's key insights were:
How should universities first focus on learning objectives, then align technology that can support that learning, specially post the pandemic?
How is Lithan eduCLaaS, a digital learning and talent platform, bridging digital skills gap and rising income inequality across Asia?
New models of funding higher education- How has Ashoka university redefined higher-education by working on " Collective philanthropy"?
Ashoka University focusses on students to acquire broad life skills; MIT Sloan believes experiential learning gives students the opportunity to test hypothesis and recommendations; Lithan delivers workforce to corporates with tangible outcomes.
Strategic partner: Amazon Web Services (AWS) Edstart
Knowledge Partner: Global Executive Learning (GEL)